Aloe Vera sensitive powder Detergent
The Aloe Vera powder detergent gives your laundry a sparkling cleanliness and preserves the colors thanks to its plant-based surfactants. Its formula with natural extracts of Aloe Vera, recognized for its dermoprotective properties, preserves and respects sensitive skin.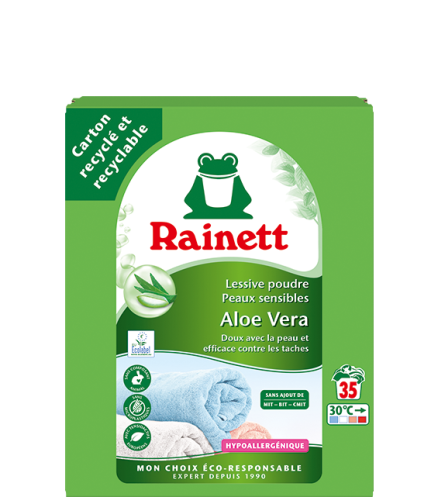 Hypoallergenic
Plant-based surfactants
Recycled and recyclable outer-carton
Sort your laundry by color, degree of soiling or type of fiber. Follow the dosage instructions (1 wash = 75ml), in order to limit energy and water consumption, and reduce water pollution. Run the washing machine at full load, at the lowest possible temperature (20°).
15–30% zeolites, 5–15% non-ionic surfactants, <5% soap, enzymes, fragrances. Other ingredient: aloe vera barbadensis.
See more details

Free of animal-derived ingredients
All Rainett formulas completely avoid the usage of animal ingredients.

Microplastic free
Water-friendly formulas clean and care without microplastics.

European surfactants
Use of European surfactants to ensure shorter transportation routes and reduced dependency on tropical oils from monoculture.