Aloe Vera Hand Dishwashing Eco-Refill
The Aloe Vera hand dishwashing eco-refill cleans and degreases your dishes effectively. Its formula is hypoallergenic and gentle on the skin. Its eco-refill format saves 56% plastic compared to a bottle of the same capacity and is 100% recyclable.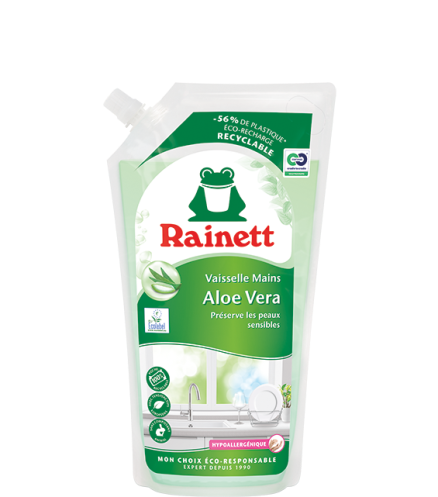 Hypoallergenic
Neutral pH for the skin
Plant-based surfactants
Ideal to refill a bottle
Immerse your dirty dishes in your sink. Follow the dosage instructions (1 to 2 pumps of product for lightly soiled dishes or 2 to 3 pumps of product for dirty dishes), in order to limit energy and water consumption, and reduce water pollution. Throw out only completely empty packaging in the special containers.
5–15% anionic surfactants, <5% amphoteric surfactants, non-ionic surfactants, preservative (sodium benzoate), fragrances. Other ingredients: Aloe Vera Barbadensis, food colorings.
See more details

Recyclable Pouch
In 2021, Rainett launched the first recyclable eco-refill on the market. Since then, it has extended this innovation to as many products as possible.

Free of animal-derived ingredients
All Rainett formulas completely avoid the usage of animal ingredients.

European surfactants
Use of European surfactants to ensure shorter transportation routes and reduced dependency on tropical oils from monoculture.

Microplastic free
Water-friendly formulas clean and care without microplastics.