Lemon washing machine Cleaner
The Lemon washing machine cleaner thoroughly cleans and descales the drum, pipes, resistance and hard-to-reach parts of the washing machine. Its 3-in-1 formula, based on citric acid, eliminates limescale, residues and bad odors while respecting your washing machine.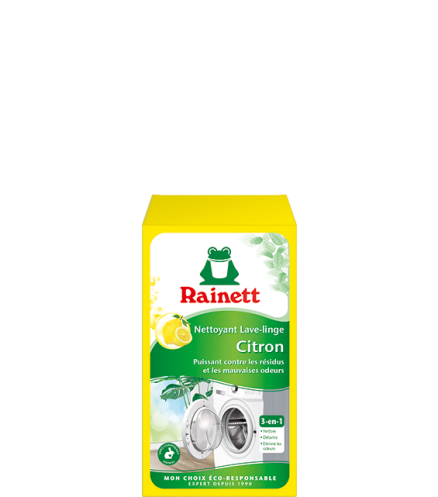 Eco formula
Plant-based surfactants
Powerfull descaling power
Recyled and recyclable carton
Pour the entire content (250g) directly into the empty drum of your washing machine. Start a complete washing program (at least 1h30, at a minimum of 40°) without pre-washing, without detergent and without laundry.

Free of animal-derived ingredients
All Rainett formulas completely avoid the usage of animal ingredients.

Microplastic free
Water-friendly formulas clean and care without microplastics.