Aloe Vera Softener
The Aloe Vera softener preserves your laundry and provides a feeling of softness on the skin while diffusing a sweet fragrance thanks to aloe vera, known for its moisturizing properties. Its hypoallergenic formula minimizes the risk of allergies and protects sensitive skin.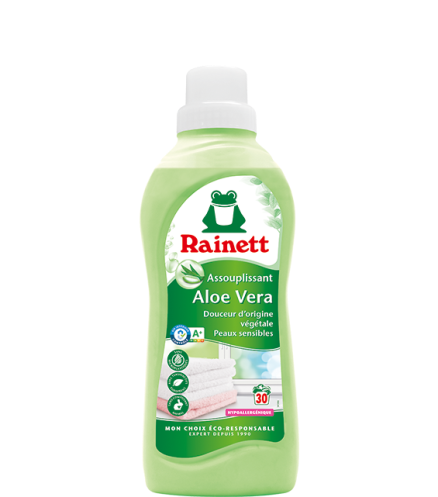 Hypoallergenic
Plant-based surfactants
Vegan, free of animal-derived ingredients
Pour the softener into the softener tray. Follow the dosage instructions (1 wash = 25ml), to limit energy and water consumption and reduce water pollution.

Free of animal-derived ingredients
All Rainett formulas completely avoid the usage of animal ingredients.

European surfactants
Use of European surfactants to ensure shorter transportation routes and reduced dependency on tropical oils from monoculture.

Microplastic free
Water-friendly formulas clean and care without microplastics.