Almond liquid Detergent sensitive Skins Eco-Refill
The Almond detergent washes your clothes efficiently, while respecting the environment and your health. Based on Almond oil, it is hypoallergenic and ideal for sensitive skin. Its eco-refill format saves 60% of plastic.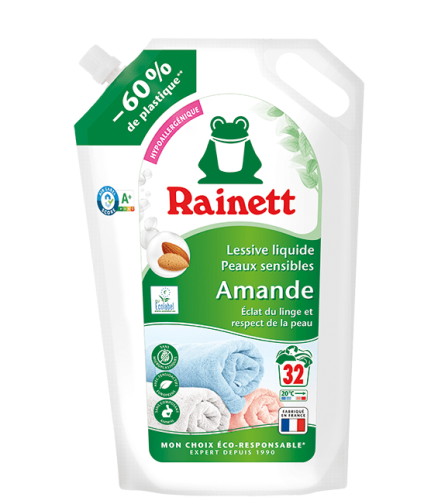 Hypoallergenic
With no addition of preservatives (MIT, BIT, CMIT)
Plant-based surfactants
Efficient from 20°
Sort your laundry by color, degree of soiling or type of fiber. Follow the dosage instructions (1 wash = 50ml), in order to limit energy and water consumption, and reduce water pollution. Run the washing machine at full load, at the lowest possible temperature (20°).
5–15% nonionic surfactants, anionic surfactants, < 5% soap, enzymes (protease, amylase, lipase, cellulase, pectate lyase, mannanase), fragrances. Other ingredients: sweet almond oil.
See more details

Free of animal-derived ingredients
All Rainett formulas completely avoid the usage of animal ingredients.

European surfactants
Use of European surfactants to ensure shorter transportation routes and reduced dependency on tropical oils from monoculture.

Microplastic free
Water-friendly formulas clean and care without microplastics.