Rainett Baby Stain Remover
The Rainett Baby stain remover is specially thought for stubborn stains on baby clothes. Its citrate-based formula, recognized for its natural descaling power, makes it possible to effectively and ecologically remove stains from milk, porridge, etc.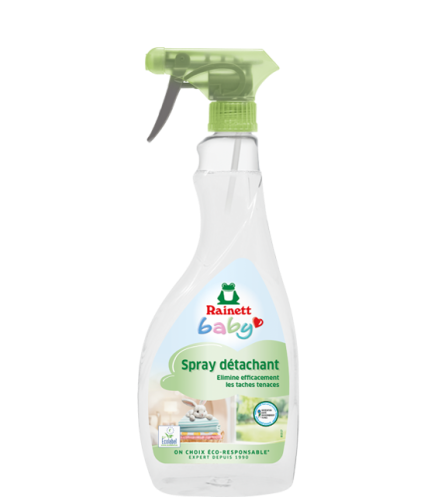 Dermatologically tested
Plant-based surfactants
Recycled and recyclable bottle
Rotate the nozzle until the opening. Before washing, spray the product on the area to be treated and leave to act for 10 minutes then wash as usual.
5–15% non-ionic surfactants, <5% anionic surfactants, soap, enzymes, perfumes. Other ingredient: citrate.
See more details

Recycled / Recyclable
Packaging made of recycled and recyclable materials makes possible the circularity of raw materials.

Free of animal-derived ingredients
All Rainett formulas completely avoid the usage of animal ingredients.

European surfactants
Use of European surfactants to ensure shorter transportation routes and reduced dependency on tropical oils from monoculture.

Microplastic free
Water-friendly formulas clean and care without microplastics.