Rainett Baby Clean-Rinser
The Rainett Baby Clean-Rinser is specially thought for cleaning baby dish and accessories (nipples, bottles and toys). Its hypoallergenic formula cleans gently and is particularly effective on milk stains and other food residues.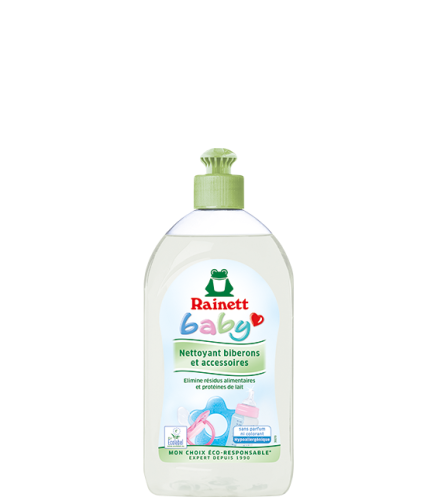 Hypoallergenic
Free of perfume
Without added colorants or preservatives
Recycled and recyclable bottle
Immerse your dirty dishes in your sink. Follow the dosage instructions (1 to 2 pumps of product for lightly soiled dishes or 2 to 3 pumps of product for dirty dishes), in order to limit energy and water consumption, and reduce water pollution.
5–15% anionic surfactants, < 5% amphoteric surfactants, nonionic surfactants, enzymes (amylase), lactic acid. Also contains: panthenol (provitamin B5).
See more details

Recycled / Recyclable
Packaging made of recycled and recyclable materials makes possible the circularity of raw materials.

Free of animal-derived ingredients
All Rainett formulas completely avoid the usage of animal ingredients.

European surfactants
Use of European surfactants to ensure shorter transportation routes and reduced dependency on tropical oils from monoculture.

Microplastic free
Water-friendly formulas clean and care without microplastics.