Lemon Bathroom Cleaner spray
The Lemon bathroom cleaner thoroughly cleans the bathroom (shower, bath, walls, washbasin, taps). Its lemon formula effectively removes limescale residues, water marks, soap scum and stubborn dirt and leaves a fresh smell of lemon.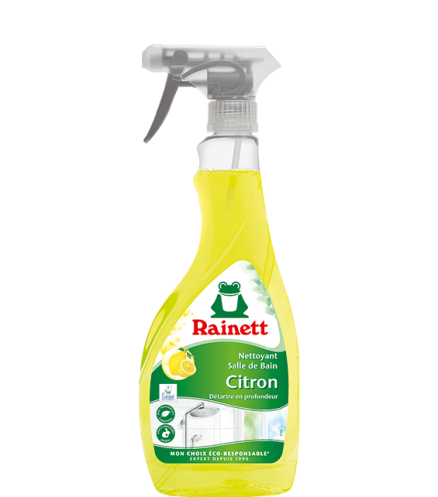 High efficiency
Anti-limescale
Plant-based surfactants
Recycled and recyclable bottle
100% recyclable trigger made with 29% of recycled plastic
Rotate the nozzle until the opening. Spray on, let the product work for a few time and wipe off with a wet cloth. If necessary, dry with a dry cloth.
<5% non-ionic surfactants, perfumes. Other ingredients: citric acid, food coloring.
See more details

Recycled / Recyclable
Packaging made of recycled and recyclable materials makes possible the circularity of raw materials.

Free of animal-derived ingredients
All Rainett formulas completely avoid the usage of animal ingredients.

European surfactants
Use of European surfactants to ensure shorter transportation routes and reduced dependency on tropical oils from monoculture.

Microplastic free
Water-friendly formulas clean and care without microplastics.