Alcohol Glass Cleaner Spray
The Alcohol glass cleaner brings shine and cleanliness to all glass surfaces thanks to its powerfull formula. Its formula with active alcohol degreases deeply for a sparkling clean without leaving any traces.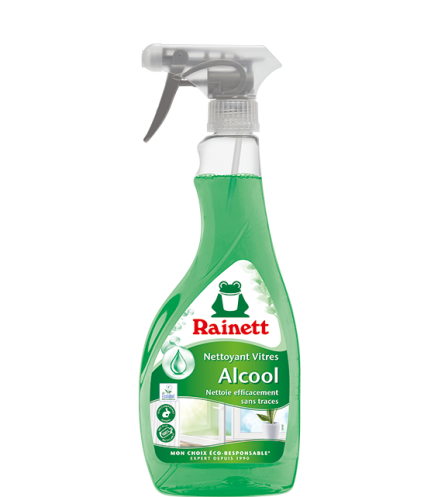 High efficiency
Perfect shine
Without leaving any traces
Plant-based surfactants
Recycled and recyclable bottle
Rotate the nozzle until the opening. Spray and wipe with a dry cloth.

Recycled / Recyclable
Packaging made of recycled and recyclable materials makes possible the circularity of raw materials.

Free of animal-derived ingredients
All Rainett formulas completely avoid the usage of animal ingredients.

European surfactants
Use of European surfactants to ensure shorter transportation routes and reduced dependency on tropical oils from monoculture.

Microplastic free
Water-friendly formulas clean and care without microplastics.