Almond liquid Hand Dishwashing
The Almond hand dishwashing cleans and degreases your dishes effectively. With sweet almond extracts, its formula is nourishing and leaves a sweet almond scent. Dermatologically tested and hypoallergenic, it is ideal for the most sensitive skins.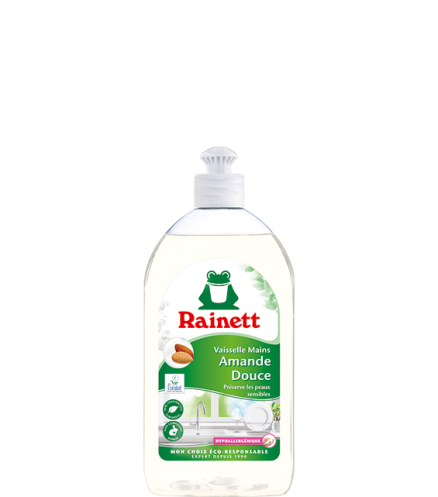 Hypoallergenic
Neutral pH for the skin
Plant-based surfactants
Recycled and recyclable bottle
Immerse your dirty dishes in your sink. Follow the dosage instructions (1 to 2 pumps of product for lightly soiled dishes or 2 to 3 pumps of product for dirty dishes), in order to limit energy and water consumption, and reduce water pollution.
5–15% anionic surfactants, <5% amphoteric surfactants, non-ionic surfactants, preservative (sodium benzoate), fragrances. Other ingredients: almond oil.

Recycled / Recyclable
Packaging made of recycled and recyclable materials makes possible the circularity of raw materials.

Free of animal-derived ingredients
All Rainett formulas completely avoid the usage of animal ingredients.

Microplastic free
Water-friendly formulas clean and care without microplastics.

European surfactants
Use of European surfactants to ensure shorter transportation routes and reduced dependency on tropical oils from monoculture.