All in 1 Soda Dishwasher Tabs
The all in 1 Soda dishwasher tabs give your dishes a brilliant shine. Its formula without phosphate and phosphonate effectively removes stubborn grease and stains. Its action is all in 1: it cleans, rinses and prevents limescale deposits.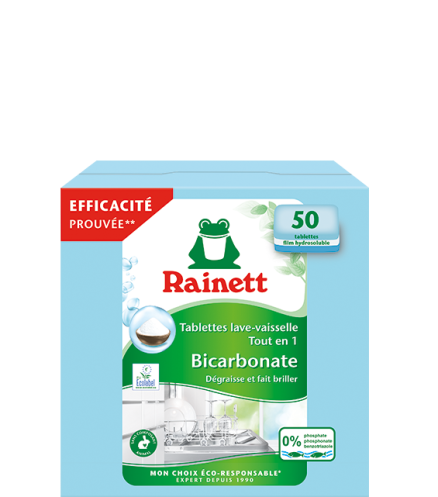 Proven efficiency
0% phosphate
0% phosphonate
0% benzotriazole
Recyled and recyclable carton
Place the tablet in the product compartment of your dishwasher. The addition of salt and rinsing liquid is only necessary from a water hardness level above 38°f. For more information about the hardness of your water, please contact your water company. Select a low temperature wash programme.
5 –15% oxygen bleaches, < 5% non-ionic surfactants, polycarboxylates, enzymes (amylase, protease), perfumes. Other ingredient: bicarbonate.
See more details

Free of animal-derived ingredients
All Rainett formulas completely avoid the usage of animal ingredients.