Bio-alcohol Dishwasher Rinse Aid
The Bio-alcohol dishwasher rinse aid gives your dishes a sparkling shine. Its ecological formula with Bio Alcohol accelerates the flow of water on the dishes and allows rapid drying without leaving traces.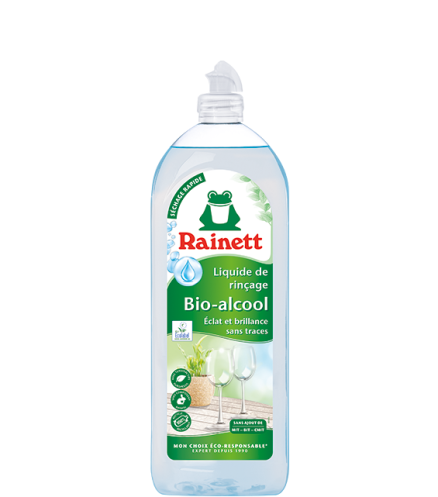 Fast drying & shine
Plant-based surfactants
Free of MIT BIT CMIT
Fill the rinse tray of your dishwasher with the rinse aid. Choose a low temperature wash cycle. Run your dishwasher at full load.
5–15% non-ionic surfactants, <5% anionic surfactants. Other ingredient: bio-alcohol.
See more details

Recycled / Recyclable
Packaging made of recycled and recyclable materials makes possible the circularity of raw materials.

European surfactants
Use of European surfactants to ensure shorter transportation routes and reduced dependency on tropical oils from monoculture.

Free of animal-derived ingredients
All Rainett formulas completely avoid the usage of animal ingredients.

Microplastic free
Water-friendly formulas clean and care without microplastics.