Sea Mineral Toilet Gel Cleaner
The sea mineral toilet gel cleaner gives your toilet a clean and shiny finish. Its raspberry vinegar formula removes limescale, scale and dirt without leaving any traces. It eliminates unpleasant odours and leaves a fresh scent.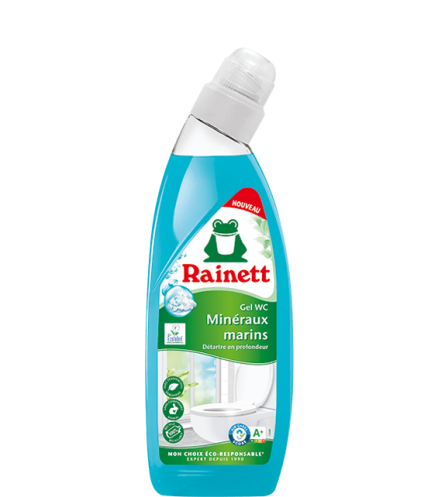 High efficiency
Septic tanks compatible
Plant-based surfactants
Recycled and recyclable bottle
Compress the safety cap and unscrew. Apply the gel in the toilet and under the rim. Let the product work, brush if necessary and rinse.
<5% anionic surfactants, perfumes. Other ingredients: sea mineral, cosmetic colouring.
See more details

Recycled / Recyclable
Packaging made of recycled and recyclable materials makes possible the circularity of raw materials.

Free of animal-derived ingredients
All Rainett formulas completely avoid the usage of animal ingredients.

European surfactants
Use of European surfactants to ensure shorter transportation routes and reduced dependency on tropical oils from monoculture.

Microplastic free
Water-friendly formulas clean and care without microplastics.