Pomegranate Shower Gel
Rainett Senses Pomegranate Shower Gel cleans and refreshes the skin while protecting its natural protective barrier. It leaves behind a fresh and delicate pomegranate scent. This fruit is known to naturally help the skin's regeneration and exerts an antioxidant action.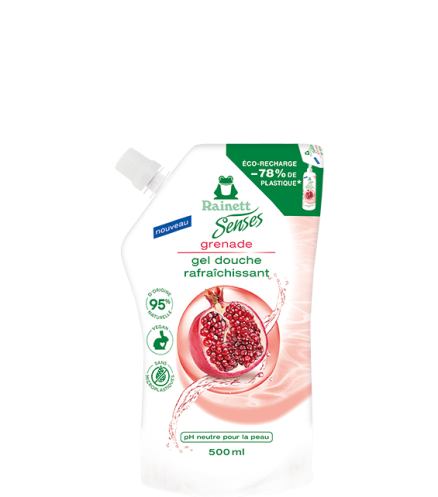 95% plant-based ingredients
pH skin-neutral
Rated as excellent on Yuka
Fill your bottle with this pomegranate shower gel eco-refill.
Water, Sodium Coco-Sulfate, Cocamidopropyl Betaine, Coco-Glucoside, Sunfloweroyl Methylglucamide, Glycerin, Sorbitan Sesquicaprylate, Panthenol, Punica Granatum Fruit Extract, Propylene Glycol, Sodium Chloride, Parfum, Lactic Acid, Sodium Benzoate

Microplastic free
Water-friendly formulas clean and care without microplastics.

Vegan
All Rainett Senses formulas are vegan, meaning they are completely avoiding the usage of animal ingredients.

95% of ingredients of natural origin
All Rainett Senses formula are 95% of natural origin, with ingredients selected for their benefits and their properties.