Marble flour Scouring cream
The Marble flour scouring cream effectively removes all types of dirt in the kitchen (on ceramic, emanel, stainless steel, stovetops and glass-ceramic cooking surfaces). Its formula with marble flour provides powerful cleaning.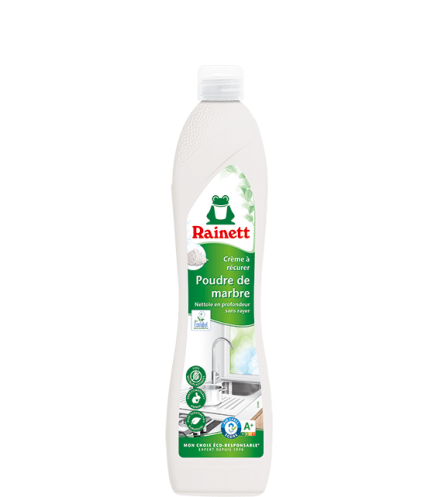 Pant-based surfactants
Micro-plastic free
Recycled and recyclable bottle
Apply undiluted to the dirty surface, scrub with a wet cloth or soft sponge. Do not use a hard or scratchy scouring sponge. Rinse thoroughly.
<5% anionic surfactants, perfumes, preservatives (phenoxyethanol). Ohter ingredient: natural marble powder
See more details

European surfactants
Use of European surfactants to ensure shorter transportation routes and reduced dependency on tropical oils from monoculture.

Free of animal-derived ingredients
All Rainett formulas completely avoid the usage of animal ingredients.

Microplastic free
Water-friendly formulas clean and care without microplastics.

Recycled / Recyclable
Packaging made of recycled and recyclable materials makes possible the circularity of raw materials.