Eucalyptus Multi-Purpose Cleaner
The Eucalyptus multi-purpose cleaner thoroughly cleans all types of floors and washable surfaces. Its formula with eucalyptus, known for its antibacterial properties, effectively cleans dirt and grease. It eliminates odours and leaves a fresh eucalyptus scent.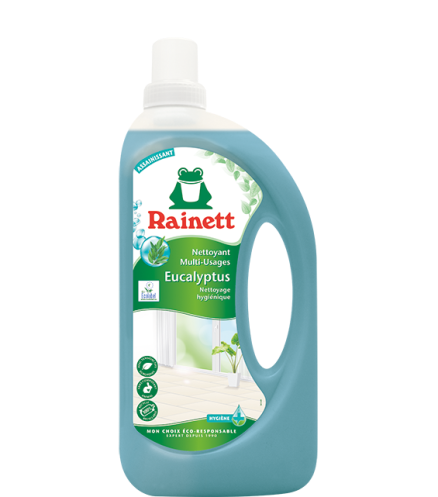 High efficiency
Purifying
Plant-based surfactants
Recycled and recyclable bottle
For routine cleaning of your surfaces, dilute 1 capful (30ml) of product in 5 liters of hot water. A correct dosing will reduce the impact of the product on the environment. For stubborn dirt, pour the product on a sponge or directly on the surface without diluting it. Let the product work for a few moments and then rinse.
<5% anionic surfactants, non-ionic surfactants, soap, perfumes. Other ingredients: eucalyptus extracts, cosmetic colorant.
See more details

Recycled / Recyclable
Packaging made of recycled and recyclable materials makes possible the circularity of raw materials.

Free of animal-derived ingredients
All Rainett formulas completely avoid the usage of animal ingredients.

European surfactants
Use of European surfactants to ensure shorter transportation routes and reduced dependency on tropical oils from monoculture.

Microplastic free
Water-friendly formulas clean and care without microplastics.